The West Virginia University College of Law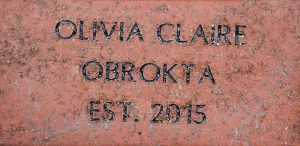 Morgantown, West Virginia
The Olivia Claire Obrokta Scholarship for Academic Excellence
This endowment was established by Olivia's parents and provides a $1,000 scholarship for female students enrolled at the WVU College of Law.  The scholarship is awarded to a female student with the highest class GPA after the first semester of the student's third year.  Students must be full-time status to receive this award.  To donate to the scholarship, please visit: https://give.wvu.edu/law#, at the bottom of the page, click on "specify designation".  In the designation field, you can enter the fund number 3Z626, or the name of the scholarship.
2017 Recipient: Jennifer Winkler
Ms. Winkler is a 2017 WVU College of Law graduate and a 2014 summa cum laude graduate of West Virginia University where she received a Bachelor of Science degree in biology and a minor in psychology.  At WVU College of Law, she was the Executive Editor for the West Virginia Law Review, a clinical student in the United States Supreme Court Law Clinic, and a Research Assistant for WVU President Emeritus and Professor of Law David Hardesty.  Following her first and second years of law school, she worked as a Summer Associate for Jackson Kelly PLLC in Charleston, West Virginia.  Jennifer currently serves as a federal law clerk in the U.S. District Court for the Northern District of West Virginia.
2018 Recipient: Christine Pill
Ms. Pill is a 2018 WVU College of Law graduate. Christy is from Martinsburg, WV.  Her undergrad is the from the University of Richmond, where she majored in Arts Administration and Dance.  She also has a graduate degree from Columbia University in Strategic Communications.  She's currently a member of the WV Law Review.